Special Law Enforcement Officer Class II (SLEO II)
A Special Law Enforcement Officer II is authorized to exercise full police powers and duties similar to those of a permanent, regularly appointed full-time police Officer.


SLEO II's are authorized to carry firearm after being fully certified by successfully completing all such training as prescribed by the Office of the Attorney General and the Police Training Commission (PTC).
SLEO II's are authorized to utilize handcuffs and other restraining devices consistent with this department's policies and only after demonstrating proficiency in the use of these devices
SLEO II's have the power of arrest and the authority to issue summonses the same as regular full time police officers.
SLEO II's duties may include, but are not limited to, general patrol, arrestee/prisoner processing and transportation, traffic control and direction, crossing guard post, crowd control, special event security and municipal facilities security.
Prior to performing the duties of a SLEO, all persons so appointed must have successfully completed a training course approved by the New Jersey Police Training Commission.
Is a citizen of the United States and a resident of the State of New Jersey.
Is sound in body and good health sufficient to satisfy the board of trustees of the police and fireman's retirement system of New Jersey as their eligibility for membership in the retirement system.
Is of good moral character and had not been convicted of any criminal offense involving moral turpitude.
Is able to read, write, and speak English well and intelligently.
Have a valid New Jersey's Driver's License.
Must pass a psychological exam.
Must pass a Drug Test pursuant to Attorney General's Law Enforcement Drug Testing Policy.
Must pass a background investigation.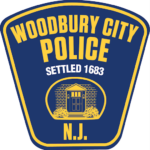 220 South Broad Street, Woodbury, NJ, 08096
Contact Name: Lt. Brian Boucher
Contact Email: bboucher@woodburypd.com
Contact Phone: (856) 845-0065 ext. 136