Special Law Enforcement Officer Class III (SLEO III)
SLEO III's are authorized to exercise full powers and duties similar to those of a permanent, regularly appointed full-time police Officer while providing security at Woodbury City schools on the school's premises during hours when the school is normally in session or when it is occupied by students or its teachers. SLEO IIIs will have responsibilities in accordance with agreements made between the School District and the City.
SLEO III personnel are responsible for security in their assigned school.

SLEO III personnel shall work in cooperation with school officials and with the school system's security supervisor/administrator.

SLEO III personnel shall provide security at school activities and functions including, but not limited to, school opening, student assembly, lunch, recess, school dismissal, after school activities, sports, and functions.

SLEO III personnel may be reassigned to different schools and different hours depending on the school, its specific security needs, and the specific school's extra-curricular activity schedule

SLEO III personnel are also responsible for conducting security assessments and vulnerability studies as directed by the Chief of Police or his/her designee
Prior to performing the duties of a SLEO III, all persons so appointed must have successfully completed a training course approved by the New Jersey Police Training Commission.

Is a citizen of the United States and a resident of the State of New Jersey.

Is sound in body and good health sufficient to satisfy the board of trustees of the police and fireman's retirement system of New Jersey as their eligibility for membership in the retirement system.

Is of good moral character and had not been convicted of any criminal offense involving moral turpitude.

Is able to read, write, and speak English well and intelligently.

Have a valid New Jersey's Driver's License.

Must pass a psychological exam.

Must pass a Drug Test pursuant to Attorney General's Law Enforcement Drug Testing Policy.

Must pass a background investigation.

A retired Officer who is less than 65 years of age, as defined by the NJ Police Training Commission, who has previously served as a duly qualified, fully-trained, full-time officer, and must be living in New Jersey.

Served as a duly qualified, fully trained, full time officer in the state of New Jersey and separated from that agency in good standing.

Is physically capable of performing the functions of the position, determined in accordance with PTC guidelines.

Has completed the training course for safe schools resource officers.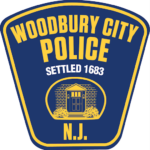 220 South Broad Street, Woodbury, NJ, 08096
Contact Name: Lt. Brian Boucher
Contact Email: bboucher@woodburypd.com
Contact Phone: (856) 845-0065 ext. 136