The Greenwich Township Police Department seeks motivated, hardworking, and determined candidate(s) for the position of Law Enforcement Officer. The selection will result in the appointment of individual(s) who will possess the skills, knowledge, and abilities necessary to ensure that the department will remain an effective, professional, and respected law enforcement agency.
Applications may be picked up at the Greenwich Township Police Department, 421 W. Broad Street, Gibbstown, NJ 08027 or online at http://www.greenwichtwp.com/2211/POLICE.
Applications must be submitted by: November 29, 2023 at 4:00PM.
Protect & Serve the public
Enforce the law
Must already possess a valid NJ Police Training Commission (PTC) Certification for
Basic Law Enforcement Officer and a minimum of one year of full time experience.
Must be legally permitted to work in the United States
Must be a resident of the State of New Jersey during the term of appointment
Must be at least 18 years of age
Must possess and maintain a valid New Jersey Driver's License
Must possess a High School diploma or its equivalent
Must be of good moral character and must submit to an extensive Background
Investigation
Must pass a medical examination and obtain a completed Medical Certification Form
Must pass a psychological examination
Must pass a Drug Test pursuant to the NJ Attorney General's Law Enforcement Drug Testing Policy
Must pass a Physical Fitness Test
Must submit to an oral interview(s)
Applicants are advised that the Full - Time position comes with medical and dental benefits.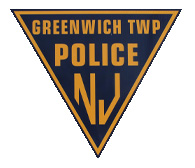 421 W. Broad Street, Greenwich, NJ, 08027, USA