Class II Special Officers can work up to twenty-nine (29) hours per week to supplement patrol, provide security at special events, and outside duty coverage, such as traffic details for private companies.
Officers will Serve & Protect the community. SLEO III's are authorized to exercise full powers and duties similar to those of a permanent, regularly appointed full-time police Officer.
Applications can also be picked up at Pitman PD HQ (110 South Broadway Pitman, NJ 08071) or through the PPD website at www.pitman.org/departments/police
Applicants are required to be a US Citizen.

Applicants must be at least 18 years old and hold a high school degree equivalent.


Applicants must be a resident of New Jersey and possess a valid New Jersey

Driver's License at the time of the appointment

Applicants must be able to successfully pass a physical fitness test, written examination, an oral interview, psychological evaluation, a drug screen and a rigorous background check.


Applicants must be of good reputation and be of sound moral character.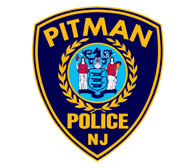 110 S Broadway, Pitman, NJ, 08071, USA
Recruitment Officer
Sgt. Andrew P. Carson