Campus Police Officer Recruit
Under immediate supervision, as a Recruit, provides foot and vehicular patrol security and surveillance throughout Rowan University's entire Glassboro main campus; performs related work as required.
Completion of the Basic Course for Police Officers at a New Jersey Police Training
Commission (PTC) certified Police Academy and ability to furnish proof of same.
Graduation from high school or possession of an approved high school equivalency certificate.
United States citizenship.
Possession of a valid driver's license.
Candidates must pass a NJ State Police background investigation, psychological test and medical exam administered by the appointing authority (Rowan University) to determine fitness to perform the duties of a Campus Police Officer Recruit. Any psychological, medical, or physical condition or defect that would prevent efficient performance of the duties of the position, cause the appointee to be a hazard to himself/herself or others, or become aggravated as a result of performance of these duties will be cause for rejection.
Candidates must be able to be commissioned as a police officer under New Jersey Statue 18A and authorized to enforce Title 2C and Title 39 by training and experience.
Appointees who successfully complete the 12 month training period will be eligible for advancement, under Civil Service Commission procedures, to the title and salary of Campus Police Officer. The inability of an employee in the Campus Police Officer Recruit title to attain a level of performance warranting advancement to the Campus Police Officer Title shall be considered for separation.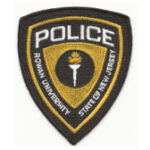 601 Whitney Avenue, Glassboro, NJ, 08028, USA