Special Law Enforcement Officer
The East Greenwich Police Department seeks motivated, hardworking and determined candidate(s) for the position of Special Law Enforcement Officer – SLEO Class I. The selection process will result in the appointment of individual(s) who will possess the skills, knowledge, and abilities necessary to ensure that the Department will remain an effective, professional, and respected law enforcement agency. Position will encompass Part-Time SLEO I Officer duties
Applications may be picked up at the East Greenwich Police Department at 159 Democrat Road, Mickleton, NJ 08056, or also online at: www.egpd.org. Applications (And resumes if available) for this position must be submitted by: August 31, 2023, at 3:00PM.
The East Greenwich Township Police Department is an Equal Opportunity Employer and does not discriminate against any applicant for employment, or any employee because of age, color, sex, disability, national origin, race, religion, or veteran status.
Must attend and pass a NJ Police Training Commission (PTC) approved SLEO I Academy Course; Or, Must already possess a valid NJ Police Training Commission (PTC) Certification for Special Law Enforcement Officer- SLEO Class I;
Must be legally permitted to work in the United States;
Must be a resident of the State of New Jersey during the term of appointment;
Must be at least 18 years of age;
Must possess and maintain a valid New Jersey Driver's License;
Must possess a high school diploma or it's equivalent;
Must be of good moral character, and must submit to an extensive Background Investigation;
Must pass a medical examination and have doctor complete Medical Certification Form;
Must pass a psychological examination;
Must pass a Drug Test pursuant to the NJ Attorney General's Law Enforcement Drug Testing Policy;
Must pass a Physical Fitness Test;
Must submit to an oral interview(s).
Applicants are advised that the Part-Time SLEO I position does not include any fringe benefits including Health benefits, vacation, sick or personal leave.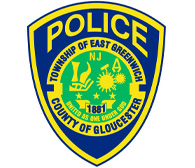 159 Democrat Rd., East Greenwich, NJ, 08056, USA